Free Hosting Reseller
Free hosting company reseller services, specially designed to allow you to setup and provide your own, customized, Co-branded, white-labeled free hosting services.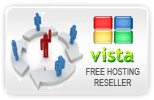 We offer two completely unique and separate reseller services, each designed specifically for the purpose of creating your own profitable free or paid web hosting service, below you can read the details on our unique free hosting company reseller service:
Free Hosting Reseller Service
Have you ever wanted to run your own free hosting company?
Now you can using our specially designed service and the very same hosting platform that we offer our users!
The reseller service give you a 'white labeled' free hosting company:
Design your own hosting company home page
You get a hosting control panel on your domain
Place your adverts into your clients pages and earn cash
Customize email templates sent to your clients
Free Reseller ($0.00 a year for life)
Under this plan you can instantly start your own reseller service and are provided everything you need in a fast and easy 'turn key' solution by offering your services within minutes of signing up!
The free reseller plan offers you all of the same core features as the paid reseller service but you do not receive a free domain name.
You can add unlimited reseller domains to your free reseller account using the add reseller domain tool in your reseller control panel once you have obtained a domain through a third party registrar or Byet Domains.
Your reseller domains (including your free sub-domain) allow you to offer hosting to unlimited users through sub-domains!
Interested? Click here to sign up for your very own free reseller plan!
How easy is it?
Choose your Reseller Account plan
Users start signing up for your service
Visitors come to your Users websites
You earn money from the advertising on your Users websites!
Common Questions
How easy is it to earn money with free hosting?
When you create your own reseller account and start getting users to host their websites with your service, your advertising code will be automatically added to their websites and are displayed to every viewer who visits a user website hosted on your service!
Do I have FULL control over my advertising?
Yes! Your advertising is 100% yours, no advertising sharing between your ads and ours on your users websites like some other services out there and you can use any kind of advertising code such as your Google AdSense code or any other advertising network!
How do I attract users to my service?
It takes time and effort but if you advertise and market your service such as through forums, in web hosting directories, company listing websites, social networks and even to your friends and family, you will surely find people looking for web hosting and what better price than free?
Once you start getting users, and your users start getting viewers, you will find that your advertising revenue increases sometimes exponentially all because of people viewing and clicking on your advertisements!
Who manages the servers and deals with the network stuff?
Your users are hosted on our powerful Clustered Hosting Platform, the very same platform which powers the Byethost free hosting network of sites and, is completely maintained and managed by our corps of network and server engineers.